Sponsored
When you purchased or rented movies, TV shows on iTunes store, you will find that the movies you purchased or rented from iTunes store are M4V format, which protected with Apple FairPlay DRM (Digital Rights Management) protection, so you can only play the iTunes purchased/rented movies on an authorize Apple device with the Apple ID you used to purchase or rent the movie, it means you not allow to watch iTunes purchased movies on Android phones, Android tablets, Android TV, PS4, Xbox and other non-Apple devices. Besides, there are some limitations to users, the Apple company allows users only watch the movies within 1 month after renting from iTunes Store, if you start playing them, you can stop or finish watching them in 24 hours. And you can only play them on one authorize Apple device.
iTunes DRM Protected Media Content
Actually, everything (music, audiobooks, movies, TV shows, music videos, etc) you purchase from the iTunes store added DRM protection, all media content downloaded from iTunes is protected by Fairplay, because the Apple company prevent users from saving or sharing the iTunes rental movies. Due to the Apple's DRM locked scheme, we can't play the iTunes movie on non-Apple devices, such as Samsung Galaxy S10/Note 10, Huawei P30/Mate 20, smart TV and any MP4 compatible devices.
(Tips: Even though Apple add DRM protection on its songs and music videos, you can also can remove DRM from Apple Music songs with UkeySoft Apple Music Converter.)
Apple said the intention to use DRM restrictions is only to prevent piracy, and ensure that the buyer only can play those purchased or rented movies on one authorize Apple devices, it means we don't really own the media contents ever purchased. But regardless of their reasons, this is extremely unfair for the honest consumers, and although we purchase content from iTunes at full price, therefore, we should have the right to play it on other devices, the honest consumer can't enjoy purchased or rented movies, TV shows and music videos freely.
I can believe that most users who purchase movies/ TV shows from iTunes store are not pirates. Most users only want to offline watch their iTunes purchased/rented movies and other M4V videos on non-Apple devices, however, How to keep iTunes rental movies forever? What you need to do is unlocking DRM from the iTunes movies and convert M4V movies to MP4. In this review, we introduce a popular iTunes M4V to MP4 Converter and iTunes DRM Removal tool – UkeySoft M4V Converter, which help you remove DRM protection from iTunes movies legally.
(Disclaimer: For personal entertainment, it is legal to remove DRM from Apple Music, iTunes movies, TV shows, music videos and more M4V videos. However, if you intend to profit from it or use it for piracy and business purposes, you will be responsible for it.)
UkeySoft M4V Converter Review
UkeySoft M4V Converter is a professional iTunes M4V to MP4 converter and iTunes DRM media removal software for Mac/Windows users. This iTunes M4V video converter can help you convert iTunes purchased or rented M4V movies, TV shows, music videos to MP4 for offline watching, it is a incredible M4V DRM removal tool, the UkeySoft allows you to easily remove DRM from iTunes movies and convert M4V to DRM-free MP4 with 100% original video quality, so you can save iTunes purchased or rented movies forever, and offline watching iTunes movies on iPhone, iPad, Android phones & tablets, Android TV, PS4 and more MP4 compatible devices without limits.
UkeySoft M4V Converter is DRM video removal tool and M4V to MP4 converter software developed by UkeySoft, which provides an easy way to remove DRM from iTunes movies, TV shows, Music videos on macOS 10.9, 10.10, 10.11, 10.12, 10.13 and Windows 10, 8.1, 8, 7.
About UkeySoft
UkeySoft is dedicated to multimedia conversion software for Windows and Mac computers, such as Apple Music Converter, Spotify Music Converter, iTunes M4V Converter, for converting DRM-protected Apple Music, Spotify songs and iTunes/Audible books to MP3. M4A, AAC, MP4, etc., can help users enjoy streaming music and videos offline.
Download more video/music converter now from the UkeySoft official website.
Key Features of UkeSoft M4V Converter:
30X Faster Conversion Speed: Removes iTunes movie DRM at 30X faster speed, for example, it will cost no more than 20 minutes to convert a 2-hour 1080P M4V movie to MP4.
Convert iTunes Movies to Multiple Devices: Convert the downloaded iTunes M4V movies to MP4 format for offline playing at any time anywhere, for example, you can offline play the iTunes movies on your Samsung Galaxy S10/S9/S8, Android TV, iPhone XS, Xbox, PS4 and so on.
Keep 5.1 Audio, AD Track and Subtitles: Losslessly convert iTunes movies to MP4 with all subtitles and audio tracks retained.
Enjoy iTunes Movies & TV Shows Freely: After removing DRM and keep iTunes rental movies forever, you can also save and transfer your iTunes purchased movies to any MP4 player for offline watching freely.
UkeySoft M4V Converter software is available for both Windows and Mac platform, the FREE trial version allows you convert the first 5 minutes for each video, so you can try to convert M4V to MP4 before purchasing it.
Please follow the bellow steps to remove DRM from iTunes movies and convert M4V files to MP4 quickly and easily.
How to Remove DRM from iTunes Movies Easily?
Step 1: Purchase or Rent Movies from iTunes Store and Download to Library
Before using this M4V to MP4 Converter, please buy movies from iTunes Store and download them to the iTunes Library. After downloading the M4V movies complete, please exit the iTunes application.
Step 2: Launch UkeySoft M4V Converter
Launch UkeySoft M4V Converter, iTunes will be automatically opened again. Then click "Add Files" and all your purchased movies, music videos, TV shows and music videos will be loaded into it's interface.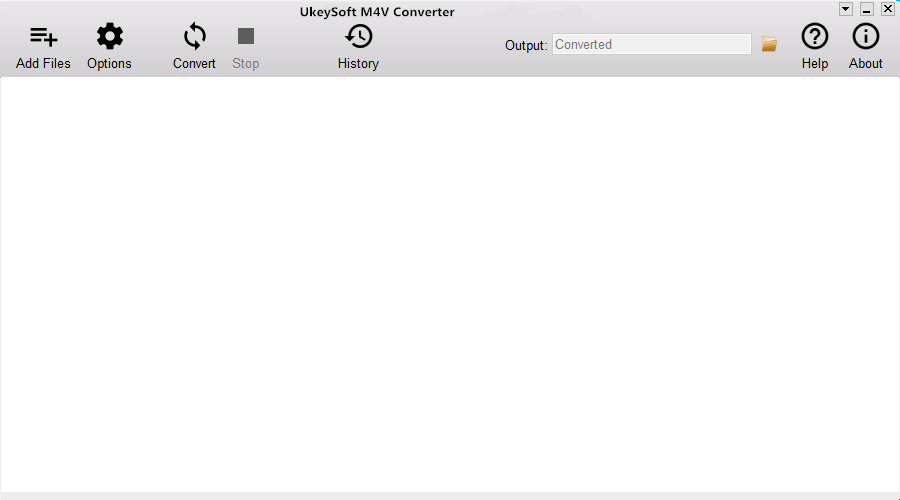 Step 2: Add iTunes Movies You Want to Convert
Select a movie or select multiple movies with Ctrl/Command or Shift key, or add entire playlist by clicking "Add All" button. If you have got a large amount of M4V videos, you can use the built-in search box to locate the video quickly.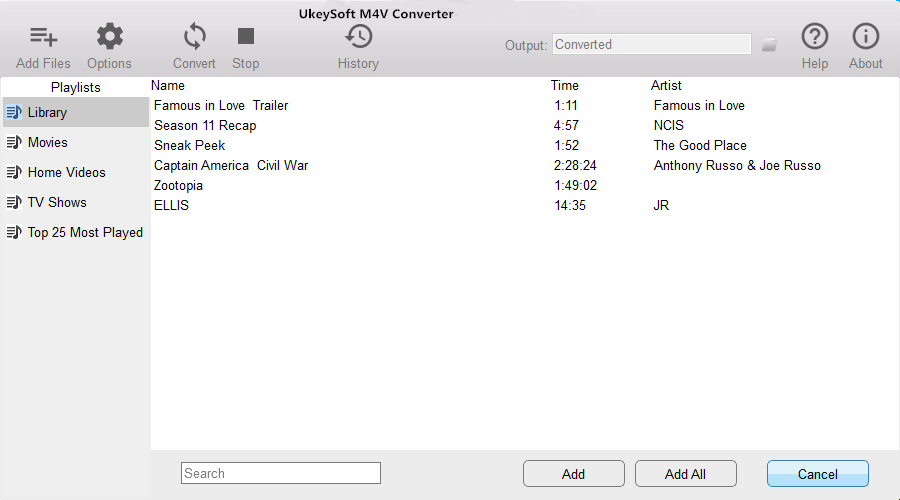 Selected the M4V movies will be added to conversion list like below.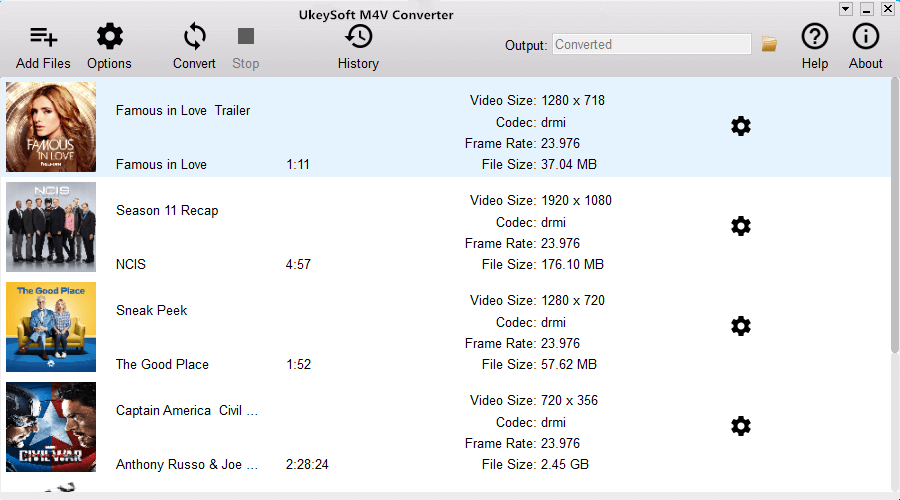 Step 3: Choose Audio & Subtitle Tracks
By default, UkeySoft M4V Converter will preserve all multilingual subtitles and audio tracks, closed captioning, audio descriptions and Dolby 5.1 track. You can go to next step if you don't want to change. If necessary, you can also click the little settings button and uncheck the tracks you don't need.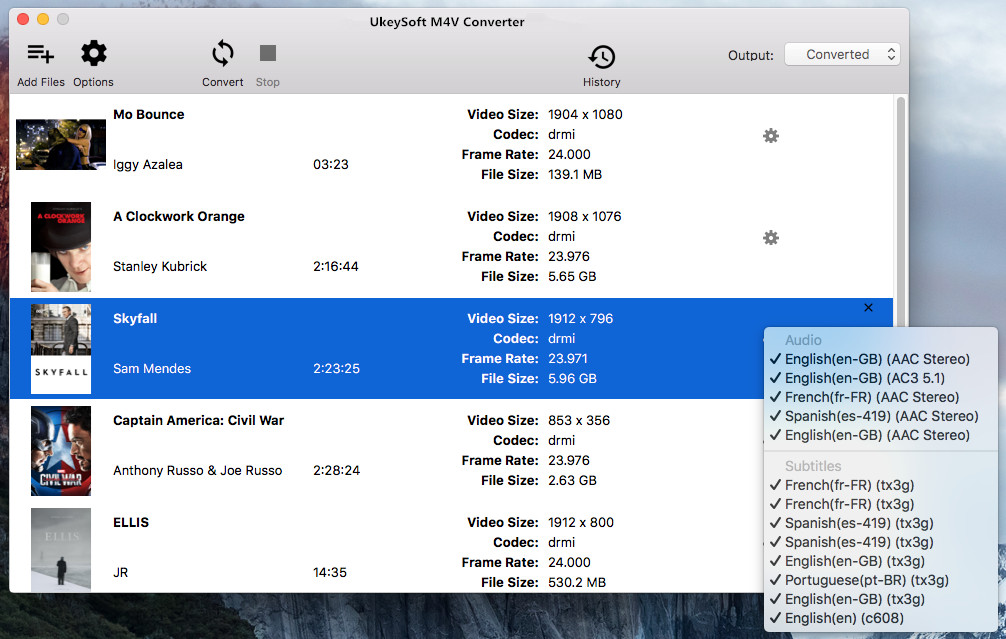 Step 4: Start Remove iTunes Movies DRM and Convert to MP4
After completing the above settings, simply click "Convert" button to start M4V to MP4 conversion, the DRM protection will be unlocked automatically during the conversion. Generally speaking, UkeySoft won't cost you more than 20 minutes to convert a 2-hour full HD 1080P movie.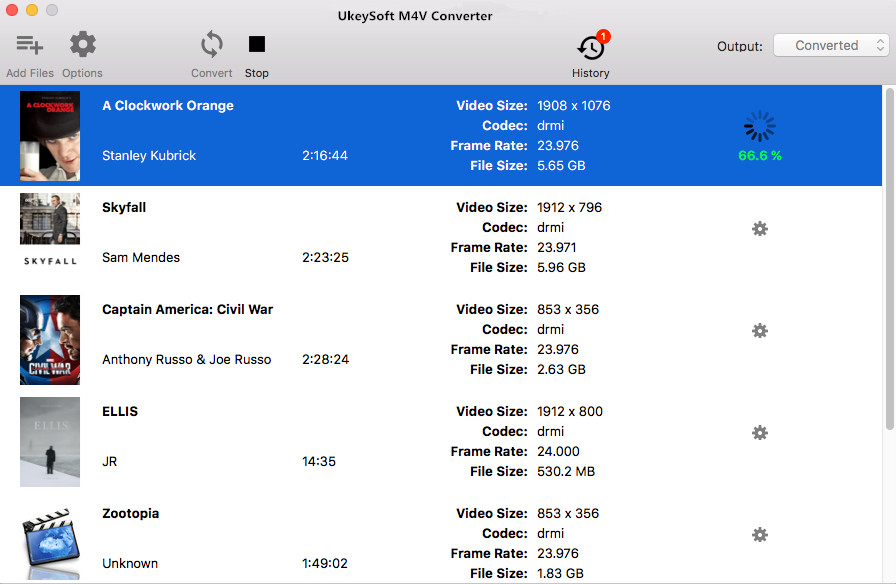 Step 5: Get MP4 Movies
After removing DRM and convert iTunes movies to MP4, you can click "History" button to check the output movies and click the small folder icon to open output folder, you can see the converted iTunes movies is MP4 video format.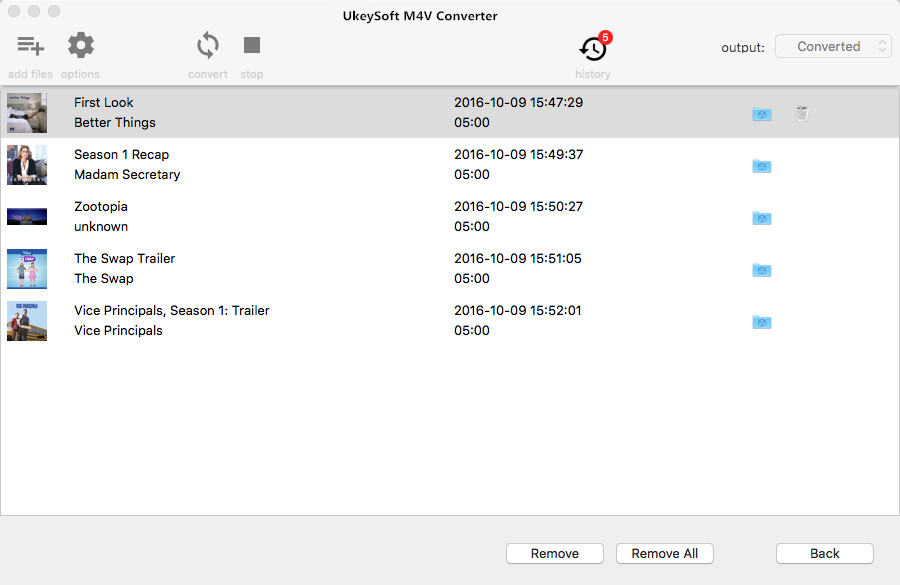 This is the best way to keep iTunes purchased or rented movies forever! Or, you can transfer the MP4 videos/movies to your Android devices, iPhone/iPad, Apple TV, smart TVs, PS4/PS3/PSP, Amazon Kindle Fire, etc. and enjoy them with built-in video player or other video player apps.

Comments Off

if ($i==1) { ?>