Scene group CPY has released the new RPG game "The Legend Of Heroes Trails In The Sky" for PC.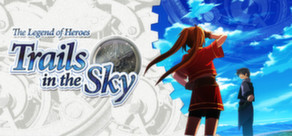 Description: Modern society owes much to a mystical technology known as "orbal energy." Fifty years ago, during what's come to be known as the "Orbal Revolution," the invention of this technology and the "orbments" developed from it led to a period of rapid human advancement, birthing innovations of all shapes and sizes — not the least of which was the airliner, or "orbalship" industry. Although the positive impact of this revolution is obvious, every coin has a flipside; for every beneficial device developed with these new materials, so too were advanced weapons and other implements of war. Thus, the land became mired with turmoil, and remains in such a state even now.
Enter, the bracers: an organization established to serve as police and intermediaries alike, holding above all else the peace and safety of the lands under their jurisdiction. Whenever a citizen is in need of assistance, he or she may place a request at the local Bracer Guild — and be it monster extermination, crime prevention or even peace talks among warring nations, the bracers will do whatever they can to resolve the matter cleanly and efficiently.
Key Features:
The original version of the first chapter in this historical series, featuring strategic turn-based combat with unmatched customization.
Over 50 hours of gameplay on average, with countless side-quests, collectibles and secrets to encourage replay.
A vast world where every NPC has a name and personality, every town has its own unique politics and economic concerns, and no detail is ever trivial.
Support for a wide variety of fullscreen and widescreen resolutions, including true 1080p HD.
Fully adjustable controls supporting virtually any USB gamepad, as well as a standard keyboard and mouse setup.
Over two dozen unique Steam Achievements, Steam Cloud support and Steam Trading Cards featuring gorgeous anime-style art from the franchise's original artists.
Numerous updates previously seen only in the handheld version, including:
- Selectable difficulty level and new game+ features on subsequent playthroughs
- Full voice-acting during combat
- "Retry Offset" feature to lower the difficulty of battle with each attempt if desired
Genre: RPG
Developer: Nihon Falcom
Publisher: XSEED, Marvelous USA, Inc.
Release Name: The.Legend.Of.Heroes.Trails.In.The.Sky-CPY
Size: 1.57 GB
Links: Homepage – Steam – IGN – NFO – NTi – TPB
UPLOADABLE.ch: Part1 – Part2
UPLOADED.net: Part1 – Part2
Comments (6)

if ($i==1) { ?>