Hey readers, this post is a bit of a strange one, but its something that i felt i needed to write. Basically this article is about my feelings on how the mainstream media handled the OiNK closure and by proxy view us, file sharers. Why should we care what the mainstream media think of us? Well because they can control how the majority of the public think about a subject. Whether you agree with my feelings is up to you if you dont feel free to shout at me and whatever else you feel you need express yourself. If you do then please say so! If your not interested then please skip this article as well as posting some stupid comment. Read on if your interested.
Although i am saddened by the demise of OiNK and although i know that writing an article wont bring the site back. I just have to say how disgusted i am by the mainstream medias handling of this event. Some may call me naive in believing that outfits such of the BBC should be neutral when reporting the news. You see i expect anti-piracy organisations to have negative bias towards 'piracy' with their press releases with all sorts of truth bending and 'facts'. Yea and that's fine its there job. I also expect sites such as Rlslog, TorrentFreak and other file sharing sites to have pro bias towards file sharing. As its what we love doing. However i expect news corporations to remain neutral and i know, i know nothing can be bias free but the BBC article (and there other coverage) on the OiNK closure really rilled me up. It is so full of lies and truth bending rubbish, that it almost made me punch through my monitor. Lets have a look at what the biggest broadcaster in the world had to say:
"Members paid 'donations' via debit or credit cards, ensuring their continued access to the site."
What? Where did they get that from? OiNK members never had to pay anything to join, upload, download, use the forums, upgrade their status or to do anything in fact. Although you could donate to the site, you were not forced to donate only encouraged to keep the site running. You also didn't get anything other than respect from other members and a gold star next to your name. No pay 2 leech here. Even when you did donate you didnt have to do it again, so all these quotes of people saying it was a subscription is so unbelivably wrong and stupid it would make me laugh. (if i wasnt so mad).
"Users were only invited to join the site if they could prove that they had music to offer, according to an IFPI spokesman"
Wrong again! You did not have to prove that you could offer any uploads to the site to get invited. You just had to be friends with someone who was already a member. Most oink members never uploaded anything to the site, only seeding what they downloaded. Simple as that. Trying to make out that the site screened invites of new members to those who would upload new material (unreleased) is simply wrong.
"This extremely lucrative and creative scheme consisted of a private file-sharing website being set up. Membership was by invitation only."
The only thing that made my blood boil in this quote, is the word "lucrative". Implying that he was somehow making money from the sites donations. This makes me so mad as it would with most admins. Although i know many of you think that we at rlslog make buckets of money of this website, it simply isn't true. The servers that rlslog are hosted on cost around $500 a month, a figure that without advertising we would not be able to maintain. The money generated from the ads barely cover this. Now think of OiNK a website that had some 200k+ users and had no ads only donations. That's all the donations were there for and without it the bills for the server would never have been paid.
Those are just a few of the quotes that really got to me. Although im sure most are quotes from anti-piracy organisations there's nothing in there from pro file sharing lobbies, nothing that offers another point of few. Where are the file sharers opinions? Instead of just quoting anti-piracy statements offer another view point so the reader can make up there own mind. The state in which the mainstream media portray file sharers at the moment is a great injustice and something i think needs to be dealt with. One thing that really stands out for me everytime a high profile takedown like this happen is that the media and anti-piracy organisations think that the admins make masses amount of money from what they do. Most if not all private Bittorrent site admins do not make money from their 'hobby'. Their activities are non commercial and loss generating (to themselves) they do it for fun.
In this article im just concentrating on this news post from the BBC but i have read others that have a similar the same tone and feel. Overall though these articles paint a picture of a site that was purely for making money from pirating music and was very cold and generally unhappy place to be. In reality OiNK was a great place not just for the great selection of music just the way consumers want it (hello music industry anyone there!?) but for the community, the people you met and the friendships that were made. Somewhere where you could talk about your favourite music and share that music with others. It was a warm, friendly place to be, something demonstrated by the 'OiNK' himself through his forum posts. You could tell he was genuinely a nice guy who just loved music and now he's being made a scapegoat because the music industry refuses to adapt to changing times. I have fond memories of OiNK and i thank the admins and the community for giving me and others such a great time. If anyone here was a member and actively joined in on the community at OiNK you will know what I'm talking about. At the time of writing the BBC have taken down the offending quotes, they must of realised it made them look like a bunch of twits. I will miss OiNK a lot and i wish 'OiNK' (the person) whatever his real name is the the best of luck in defending himself against the bunch of lies they will change him with!
"First they ignore you. Then they laugh at you. Then they fight you. Then you win" Mahatma Gandhi
Note: OiNK.cd now carries the standard takedown message from the anti-priacy organisations.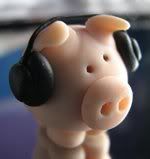 RiP
Comments(214)