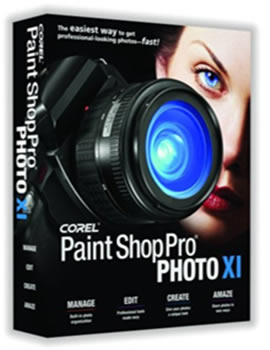 I don't think this nice application needs any intro, does it?
Well known group CORE released an ISO of version 12.0 of Corel Paint Shop Pro Photo.
Edit: This release is different from the post made previously. This release is an ISO, so you can burn it to a CD.
In the world of photo editing programs, Paint Shop Pro has always been the leading alternative to Adobe Photoshop, for those who are unable or unwilling to afford the hefty price of the market-leading product. Originally launched by Jasc Software in 1992 as a bitmap and vector graphics editor, it has grown to become a powerful photo editing and organising suite with a wide range of powerful functions, many of which rival those of Photoshop. Jasc was taken over in 2004 by Corel Corporation, and the new owners have invested serious development and marketing resources into Paint Shop Pro, adding many new features and promoting the product to take advantage of the growing popularity of digital photography and home photo editing.
The previous version, Corel Paint Shop Pro Photo XI, was launched in September last year and has proved to be very popular, so just a year later a new version has been launched, named Paint Shop Pro Photo X2. Apart from demonstrating a limited understanding of the Roman numbering system, the latest version introduces several new features, improves some existing ones, and adds an attractive new interface theme.
Release Name: Corel.Paint.Shop.Pro.Photo.X2.v12.0.Multilingual.ISO-CORE
Size: 705.44 MB
File Name: cr-pspx2.rar
Links: Homepage, Torrent, RS.com (maybe?)
Comments(131)