Advertisement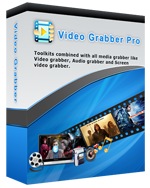 Here's another giveaway for you, RLSLOG readers! This time it's great video grabbin software.
In recent years, more and more video sites have launched on the Internet. If you usually watch videos online, you will find that most of video sites only allow viewers to watch and share videos, while downloading videos is not permitted. This is a problem to many viewers for they hope to grab videos for enjoying them offline on MP4 players or mobiles with ease. Along with the increasing demand of streaming videos anywhere, a lot of downloader application emerged. The unhappy thing is that some of them work slowly while many others result in poor video quality. Then, choosing a workable downloader is very important. Luckily, we have Video Grabber – a nice application to download any videos to MP4, FLV, 3GP and AVI at high speed.
Easy Way to Grab Online Video
The highlight of Video Grabber is: the application is super easy to use. Once you open the website, put the video URL to allocated box and hit "Grab it" button, the video will be fetched. After that, the application will show up several download links, you can click it and choose output folder for storing the video. That's it. Comparing with the similar tools, Video Grabber does a better work in downloading HD videos. And it supports to grab video free from more than a thousand sites.
To meet users' needs in other aspects, Video Grabber comes with additional features which including video search, video conversion, audio extraction and screen recording. No matter which web browser you are using, the application can run well and functions smoothly.

Shareware for Grabbing Video Effortlessly
Some people have higher requirements in video downloading. For example, you may wish to download playlist from a website or you may desire to download videos streamed through special protocols. Regarding such case, a multifunctional program is desperately needed. Here, Video Grabber pro is highly recommended, it's a one-click downloader that lets you grab individual video clip, playlist and even an entire channel simply. Now, Apowersoft is hosting an exclusive giveaway for Video Grabber Pro to reward the readers of RLSLOG.net. Below are the key features for you to easily learn this product at a glance.
Features: 
Auto-detect and grab web videos
While the video is playing, the software will find the video source and begin to download it. You can open multiple videos at the same time to download videos in batch. The maximum simultaneous downloads is up to 20, just make the settings first.
Grab HQ videos and playlists
Video Grabber pro can download 1080P videos, 3D videos and 4K videos. You should input video link address to the URL field and hit "Add to Download", then the software will remind you to select preferred formats. This way also can be used to download playlists and channels.
Grab RTMP protected videos
The "Advanced Video Detector" embedded in this software is designed for grabbing videos protected by RTMP protocol. Here're some instructions for a quick workaround, just follow them to grab your wanted videos.
Convert videos for playing on portable devices
Conversion is another attractive function of Video Grabber pro. Except of popular video and audio formats, it also helps to convert videos to iPhone, iPad, Android and PSP immediately.
Do basic video editing
It is easy to trim, crop, merge, add effect and edit subtitles to videos. In this case, you can personalize the videos and use it for many purposes.
Record activities on computer screen
By using record function, all the videos can be saved in 1:1 quality. And it also facilitates you to record anything that happens on your screen. In this case, you can not only record streaming videos on your screen but also create your own demos in flexible ways.
Download Link: here
Email Address (case-sensitive): giveaway@rlslog.com
Registration Code: 10254531021019810
Comments(6) ->