The history of preparing soups is probably old as much as cooking.
Since ancient times, soups have been a crucial part of healthy meals, mostly in the diet of health conscious people or people managing their health due to diseases they suffer.
Healthy soups are known to be easily digestible and refreshing.
It is interesting that a soup like this was first found in a restaurant in Paris, in the 18th century. In this country of romance and fashion, first soups were made, and they are still enjoyed today in many restaurants around the world. Mostly, French restaurants make numerous sophisticated soups and recipes.
They are usually consumed warm, before the main meal but do not be surprised if you find cold soup on the restaurant's menu, especially during the summer months. Perhaps, they might not be the most common choice for our climate, but they certainly represent a real boost.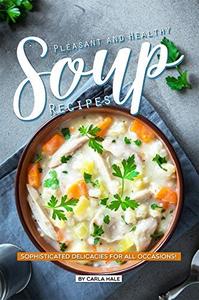 Pleasant and Healthy Soup Recipes: Sophisticated Delicacies for All Occasions! by Carla Hale-P2P
November 18, 2018 | ISBN: 1731508840, 1731509197 | English | 89 pages | EPUB | 4 MB
DOWNLOAD: DOUPLOADS – UPLOAD4EARN – UPLOADOCEAN
Comments(1) ->