Celebrate National Soup Month in January and beyond with a big bowl of homemade soup.
From thick and comforting chowders, clear consomm?s and chilled gazpachos to creamy smooth soups and hearty broths, discover 40 soup recipes for all seasons.
Whether you are searching for a warming meal of Scotch Broth or Shrimp Chowder or looking to serve a gourmet chilled Mango Gazpacho appetizer, fill your bowl with these easy-to-make souper recipes!
As an appetizer, side dish or main meal, soup is a great way to showcase the fresh produce of all four seasons.
Spicy, sweet or savory, warm hot or chilled, National Soup Month in January is the perfect opportunity to indulge in some serious soup-making.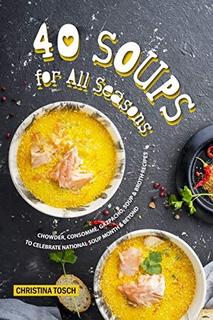 40 Soups for All Seasons: Chowder, Consomme, Gazpacho, Soup Broth Recipes to Celebrate National Soup Month Beyond by Christina Tosch-P2P
English |190 pages | EPUB | 4 MB
DOWNLOAD: DOUPLOADS – SPEED4UP
Comments(3) ->