Do you like fried food but still want to be healthy and keep fit? Or you have an air fryer and can't find a nice cookbook? With our new book you will solve these problems!
Why should you download this book?
First, because our recipes are both delicious and healthy.
Second, now you won't have to spend too much time in the kitchen, because our recipes are super-easy.
Third, we included pictures for every recipe because we know how difficult it is to cook a meal without knowing what it should look like.
In this book you will find:
Breakfast Recipes
Lunch Recipes
Dinner Recipes
Side Dishes
Appetizers
Meat and Poultry
Fish and Seafood
Vegetables and Beans
Desserts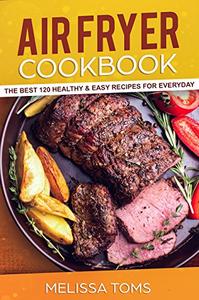 Air Fryer Cookbook: The Best 120 Healthy & Easy Recipes for Everyday by Melissa Toms-P2P
English | May 22, 2018 | ASIN: B07D8MB5FV | 266 pages | EPUB | 4.5 MB
DOWNLOAD: SUPRAFILES – DOUPLOADS
Comments(3)